According to the USDA's most recent Census of Agriculture, over 92% of the land in Knox County is used for agriculture. The same census tells us that our county ranks first overall in the state for our Market Value of Agricultural Products Sold, first in sales of grains, oilseeds, dry beans, and dry peas, as well as first in vegetables, melons, potatoes, and sweet potatoes. It should come as no surprise then that agritourism plays a large role in our local economy.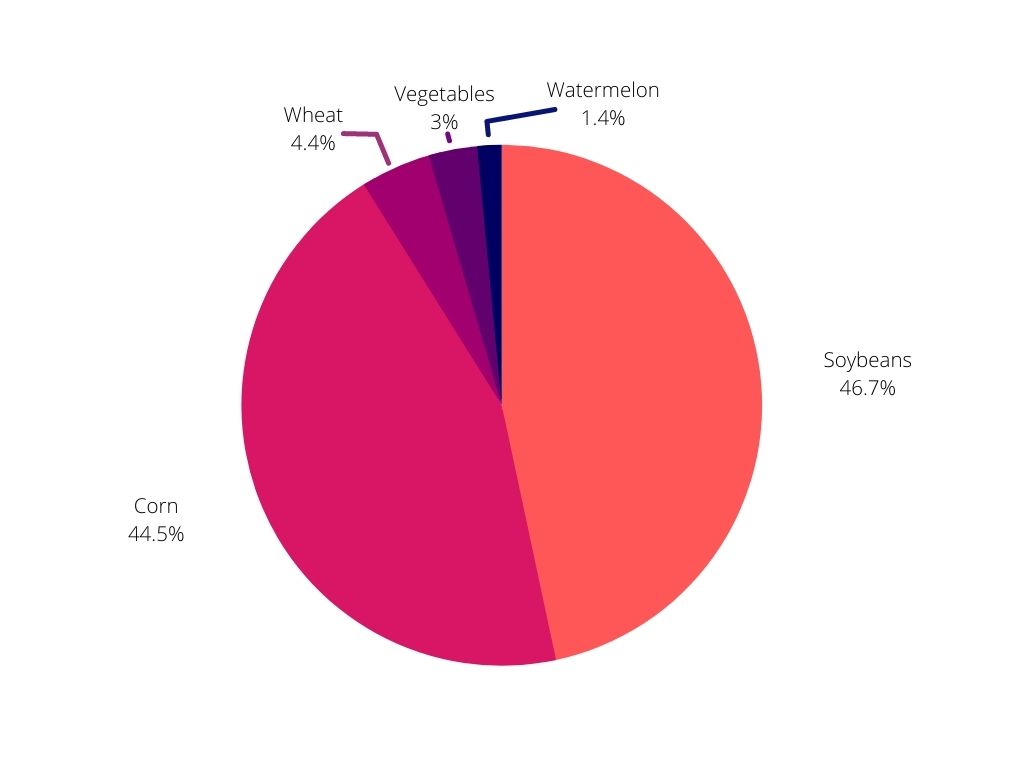 Here is our recommended route for your Knox County agritourism journey:
Knox County has ten agritourism destinations. Starting in Vincennes, make your way from the Historic Vincennes Farmers Market and then Halter's Market on N. 6th Street; at both places, you'll find an array of fresh produce, as well as flowers and other unique flora. After that, head over to Windy Knoll Winery for a quick tasting or a wine slushy.
After you finish up in Vincennes, get on Highway 41 North and head to Bruceville. Apple Hill Orchard will be your first stop on this leg of your journey. With the tantalizing smell of fresh baked goods, family-owned Apple Hill Orchard offers visitors freshly picked apples, peaches, nectarines, plums, pears, and cherries, as well as homemade pies, donuts, and their award-winning apple cider. After filling up at Apple Hill, make a stop at the Big Peach! Be sure to stop and get a photo in front of the legendary big peach before heading indoors to peruse the wide variety of locally grown fresh fruits and vegetables. And don't forget to check out their selection of homemade jams and jellies!
Your next stop is Oaktown. Although small in size, there is no shortage of places to visit on your agritourism journey. If you want a quick bite to eat or need something to satisfy your sweet tooth, The Melon Patch & Fresh Delish Deli is the place for you! With homemade fudge, delicious sandwiches, and a gift shop in addition to their produce selection, The Melon Patch is sure to have something for everyone. Further up the road is Mayall's Market and Greenhouse. There, you will find fresh garden plants and flowers, as well as locally grown produce—including tomatoes and watermelon.
Prarie Acres Farm Market in Oaktown not only supplies visitors with fresh local produce, but also has a quaint gift shop full of locally crafted products, candles, jams, spices, and more. You're sure to be hungry after all of the shopping you just did; so why not stop at McKinley's Orchard Restaurant & Farm Stand? With country-style home cooking, McKinley's Orchard Restaurant is sure to satisfy your appetite. If you still have some energy left in you, be sure to make one last stop at Melon Acres. Family-owned, Melon Acres has compiled an impressive list of "firsts" in the Indiana melon industry, and for good reason. With high-quality produce and transparency in how they farm and produce what they do; Melon Acres is a local favorite for residents of Knox County and visitors alike. With fresh watermelon and cantaloupe, as well as a variety of freshly picked vegetables—be sure to make Melon Acres a stop on your agritourism "to-do" list.  
To print our agritourism map, click here.