Have you ever been on a trip and met someone that made an impact on you? Maybe they were incredibly welcoming or made the new place you were visiting seem less scary. Sometimes a friendly face is all it takes to turn a bad trip into a good one. This is our goal with our Interview With a Local Series; to introduce you to new people—familiar faces—who we hope will not only make your visit to our small towns in Knox County better but also make you want to come back and see more.
Born and raised in Vincennes, Mark Hill is a familiar face to nearly every Knox County resident. A graduate of both Indiana University and the University of Kentucky, Mark is the current Executive Director for the United Way of Knox County & Crawford County, IL. He is actively involved in multiple civic groups and historic organizations throughout the community and is always willing to lend a helping hand.
---
Volunteerism and Work
Mark started his volunteer work while he was still in Junior High, giving tours of the Old Cathedral. He told us that growing up with history in his backyard played an important role in his volunteer work. Mark also credits his father, a teacher of business math and typing but who studied to be a history teacher, to be one of his biggest influences. Growing up surrounded by his father's collection of history books led to his interest in the Revolutionary Period. Later in his adult life, his secretary at the time was on the Rendezvous Committee and invited him to help at the information booth during the 10th annual event. Mark told us that he was "hooked" and he became the Marketing Director for the Rendezvous the following year.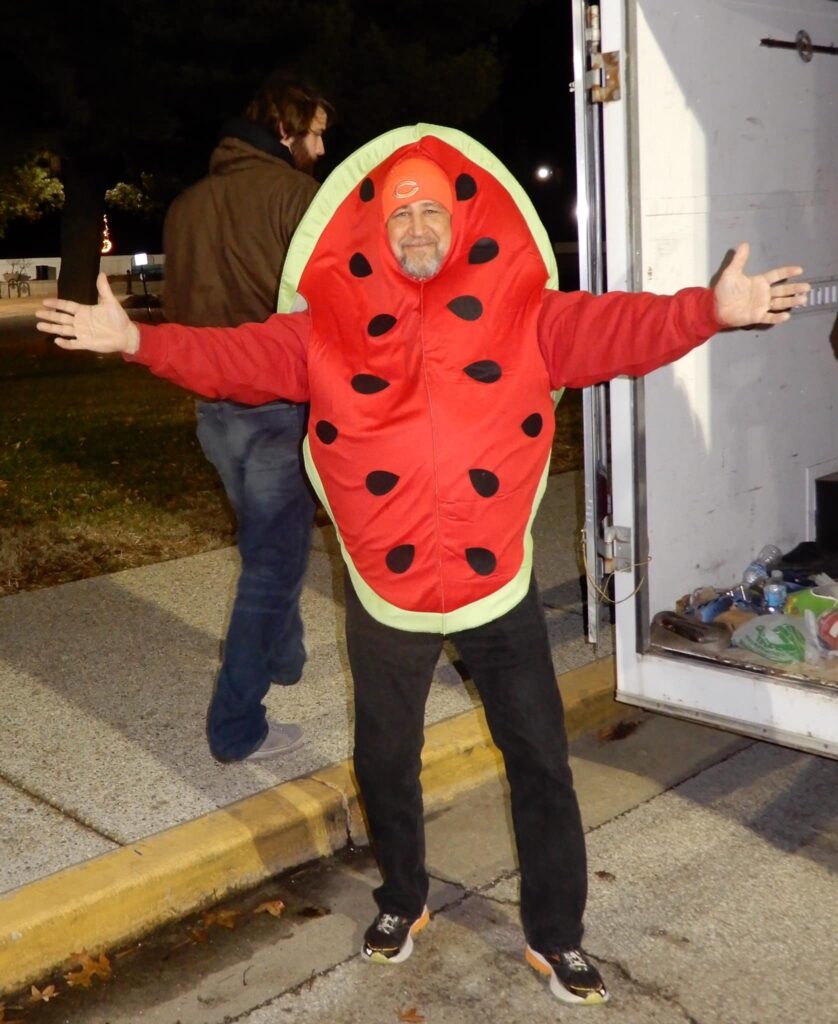 Since then, he has become a reenactor for the Spirit of Vincennes Rendezvous, Grouseland at Christmas time, and the Indiana Military Museum for their WWII event. Mark has also acted as a guide, giving tours of other Vincennes historic sites. And while he no longer dresses up as a watermelon slice for the Watermelon Drop, he does continue to M.C. the annual Miss Watermelon Pagent.
Of all the events though, the Rendezvous is the most near and dear to his heart. His thirty-five years of dedication & involvement have influenced the course of the event for the better. Mark shared with us that he was a part of the "'second generation' that took over from the original 6 founders. I've been involved heavily in its growth and authenticity and even got to travel to Washington D.C. to the Bicentennial of the Library of Congress to represent the Rendezvous."
When we asked Mark what his favorite part about volunteering was, he told us, "Being in period clothing and stepping back in time gives you a true sense of the time and lends some authenticity to the tourists who visit our city.  My other favorite thing is discovering lesser-known people of the Revolutionary Period and promoting them like Louis St. Ange (the first real Mayor of Vincennes) or this year's [Rendezvous] theme of The Willing (a ship designed to assist Clark in the capture of Fort Sackville but it arrived too late." A little-known fact that he shared with us is that the Rendezvous—45 years ago—started its first year at the Vincennes University campus and was tied to the National Bicentennial celebration in 1976 and that they sold hot dogs. A lot has changed since then!
---
Personal Life
Aside from his work at the United Way and all of his volunteer work, Mark teaches a class at Vincennes University every semester, and spent five years teaching at the Federal Prison in Terre Haute — a little-known fact about him! He also told us that the students he had there were some of the best he's ever had.
One of his favorite places to eat locally is Bill Bobe's Pizzeria on 6th Street in Vincennes; though with the wide variety of local restaurants, he told us though that he tries to support them all. He loves all of the seasons in Knox County, but if he had to choose he would pick Fall and Spring for the colors and milder temperatures. When we asked him when traveling what he prefers for lodging—hotels, camping, or B&B's—Mark told us, "My wife grew up in a Holiday Inn keeper family and I married into their business. We are graduates of Holiday Inn University back in the mid-'70s. I would say hotels"
As our conversation with Mark came to a close, we asked him one last question; If someone only had 24 hours to spend in Knox County, what would you tell them they needed to do or see while they were here? Mark told us people should walk the "Mile of History." "We used to talk about our mile of history when we ran the little tourism train from the VU campus near the State Historic Sites. There is so much rich history between the Memorial and the Red Skelton Museum. You can step back in time and see many time periods in a short period. "
---
The next time you're in town, whether it's to visit the Rendezvous next weekend or one of the other many events Knox County has to offer, be sure to tell Mark, "Hello" if you see him. We hope his familiar face, along with the many other wonderful volunteers and locals we'll be interviewing will make your trip to Vincennes and Knox County even more special than it already is bound to be.