Description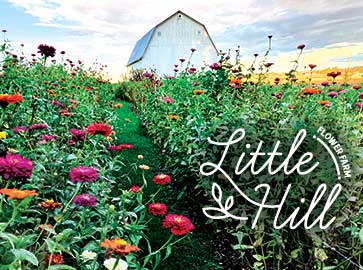 Little Hill Flower Farm is nestled just 7 minutes outside historic Vincennes, Indiana overlooking the Knox County countryside. We invite visitors to experience the joy of picking, arranging, and strolling through rows of gorgeous blooms during our You-Pick Events. Our farm-fresh flowers are long-lasting, unique, and make beautiful arrangements.
We offer private You-Pick Events perfect for groups. Contact us to schedule an event!
Season: July – October
For You-Pick Event dates and times, visit our website: www.littlehillflowers.com
Follow them on Facebook & Instagram!
Facebook: www.facebook.com/littlehillflowers
Instagram: www.instagram.com/littlehillflowers
Additional Details
Hours
Season: July - October
For You-Pick Event dates and times, visit our website: www.littlehillflowers.com
Contact
Manager: Hannah Swank
Phone: 812-890-8781
Categories: AgriTourism, Attractions