First Friday Art Walk
May 5
@
5:00 pm
–
8:00 pm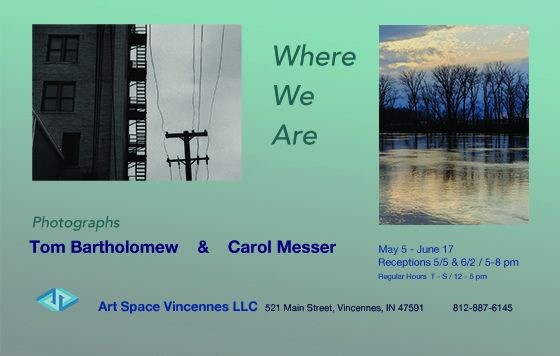 Join friends at Art Space Vincennes, Open Gallery, and Northwest Territory Art Guild Gallery for the First Friday Art Walk, Friday, May 5, 5 – 8 pm,
Art Space Vincennes LLC, 521 Main will open Where We Are, Photography by Tom Bartholomew and Carol Messer. Both artists carefully choose subjects from familiar surroundings interpreted through unique perspectives. Tom Bartholomew, recently retired from a long and successful career focused on photographing people, has begun to explore what people leave behind when they have moved on. The over-arching narrative of his work continues to be a kind of storytelling, now moving from specific events to an embracing of both the constancy and fluidity of time and nature. Carol Messer, who also has a long history of engagement with the arts both personal and professional, has recently been exploring the transformative power of evening light, as this light reveals a unity of spiritual energy in the coming together of land, sky, and the enduring structures of farm buildings in the rural outposts of Knox County.
Regular gallery hours: Tue – Sat Noon – 5 pm and by appointment: 812-887-6145
Northwest Territory Art Guild, 316 Main will be exhibiting millinery art by Patricia Frankum, just in time for the Kentucky Derby. Frankum has had a lifelong interest in millinery and remembers the first headpiece she created, at the age of 9. "It was sort of a bear, and I sewed the trinkets found in Cracker Jacks on each of the paws. I have always been fascinated with hats and always wore them." As she raised her family and worked as an accountant and then a store owner, she also studied millinery with teachers in Chicago and LaGrange, Indiana, and networked with other practicing milliners. Her hats are now in high demand, and a regular feature in the Knoxville Botanical Gardens Hats in Bloom annual fundraising event.
Both 2 and 3-dimensional artworks by Guild members will also be shown in a variety of media, techniques, styles, and subject matter.
Regular gallery hours: Tue – Sat 11 am – 2 pm. Additional hours by appointment; contact the gallery via Facebook.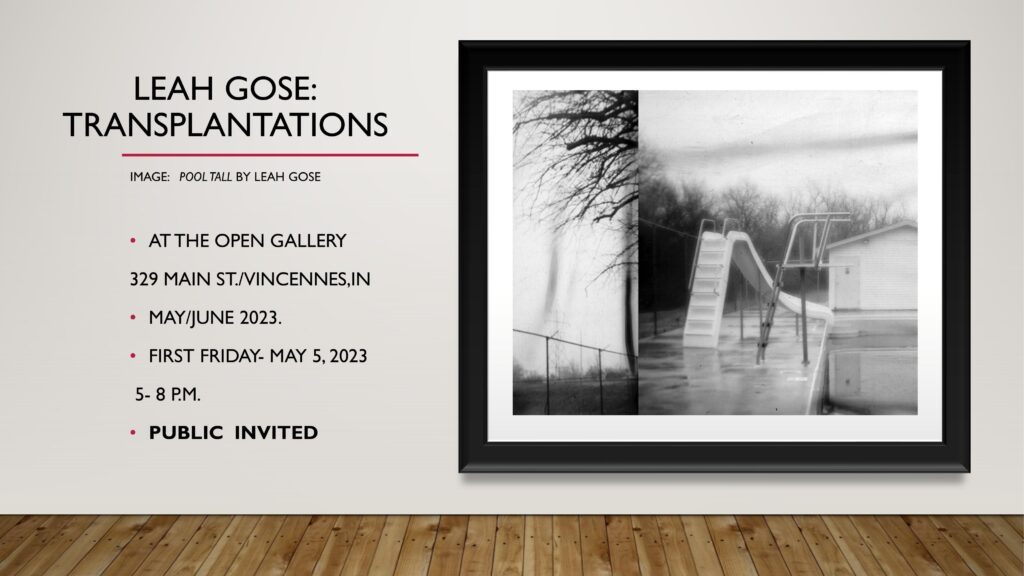 The Open Gallery, 329 Main welcomes visual artist Leah Gose for an exhibition of her photographic series titled, "Transplantations". This series of collages uses personal connections to multiple landscapes in what Gose calls her "search for home as it would be defined by my sense of place…These visual transplantations reflect feeling lost due to my own inability to ground myself as I move through various landscapes searching for home and stability". Gose is an Associate Professor and Chair of the Harvey School of Visual Arts at Midwestern State University in Wichita Falls, TX. Her exhibition will continue through the end of June.
The First Friday Players will again provide rollicking good Irish music for visitors to enjoy.
Regular gallery hours: Tue, Thu 12 – 5 pm, Sat 11 am – 4 pm, and by chance.
812- 881-6475.
Related Events