Red Skelton Festival and Parade
June 10
@
10:00 am
–
June 11
@
3:15 pm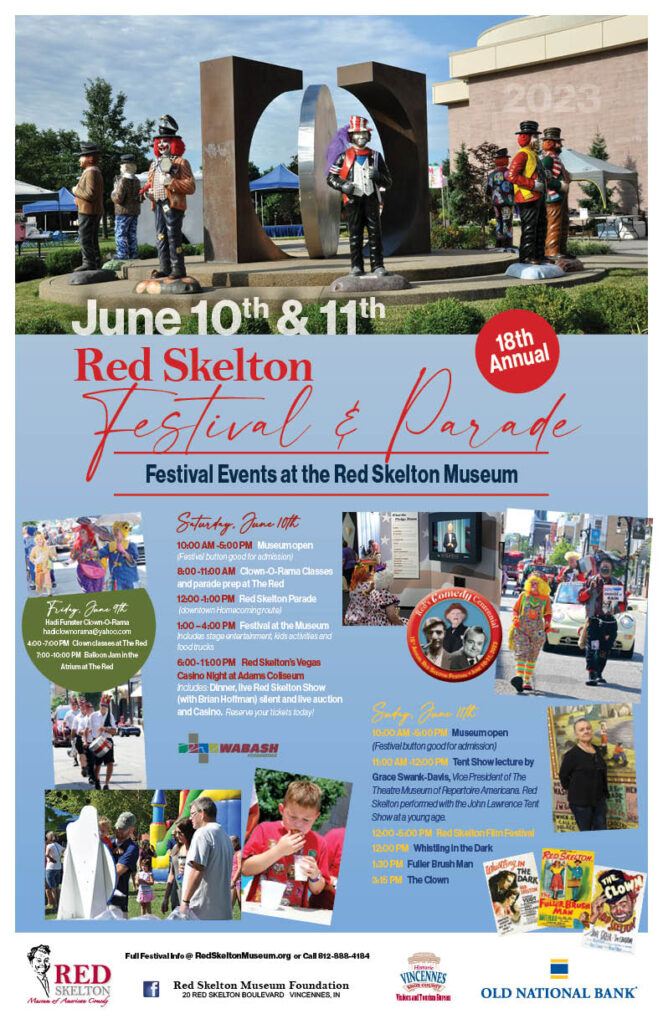 The Red Skelton Museum of American Comedy will host the 18th annual Red Skelton Festival and Parade June 10-11.
Saturday June 10–
10 a.m. -5 p.m. Museum is open and festival button provides admission
8-11 a.m. Clown-o-Rama classes and parade prep
12 p.m. Red Skelton Parade through downtown Vincennes
1-4 p.m. Red Skelton Festival at the museum with stage entertainment, kids activities and food trucks
6-11 p.m. Red Skelton's Vegas Casino Night at Adams Coliseum, including dinner, a live Red Skelton show, and a silent and live auction/casino. This is a ticketed event.
Sunday June 11–
10 a.m. -5 p.m. Museum is open and festival button provides admission
11 a.m. to noon Tent Show Lecture by Grace Swank-Davis
12-5 p.m. Red Skelton Film Festival
12 p.m. Whistling in the Dark
1:30 p.m. Fuller Brush Man
3:15 p.m. The Clown
Related Events