46th Annual
"Spirit of Vincennes Rendezvous"
MAY 27-28, 2023
George Rogers Clark National Historical Park
401 South 2nd St | Vincennes, Indiana
(800) 886-6443
Experience the American Revolution at a Living History Event!
Saturday-Sunday, May 27-28, 2023
This US revolutionary war reenactment offers all the sights, smells, sounds, and tastes of the 18th century. Reenactors bring history to life during this unforgettable weekend.
Authentic battle enactments are held several times during the event. Food from the era is prepared over open fires and merchant tents offer 18th-century wares. All-day entertainment includes period music, children's games, storytellers, oxen demonstrations, and more.
George Rogers Clark National Historical Park Grounds
Stroll through the encampment and interact with members of the NWTA (North West Territory Alliance). Witness the color ceremony, 18th Century Fashion Show, a parade of uniforms, and watch the film at the Visitor's Center.
You are welcome to go inside the Memorial to see the 7 1/2 foot bronze statue of George Rogers Clark and marvel at the seven 28-foot murals by Ezra Winter that depict the story of Clark's capture of Fort Sackville during the American Revolution.
Conclude your weekend at the Memorial for period music and the NWTA closing ceremony, evening colors, and troop parade.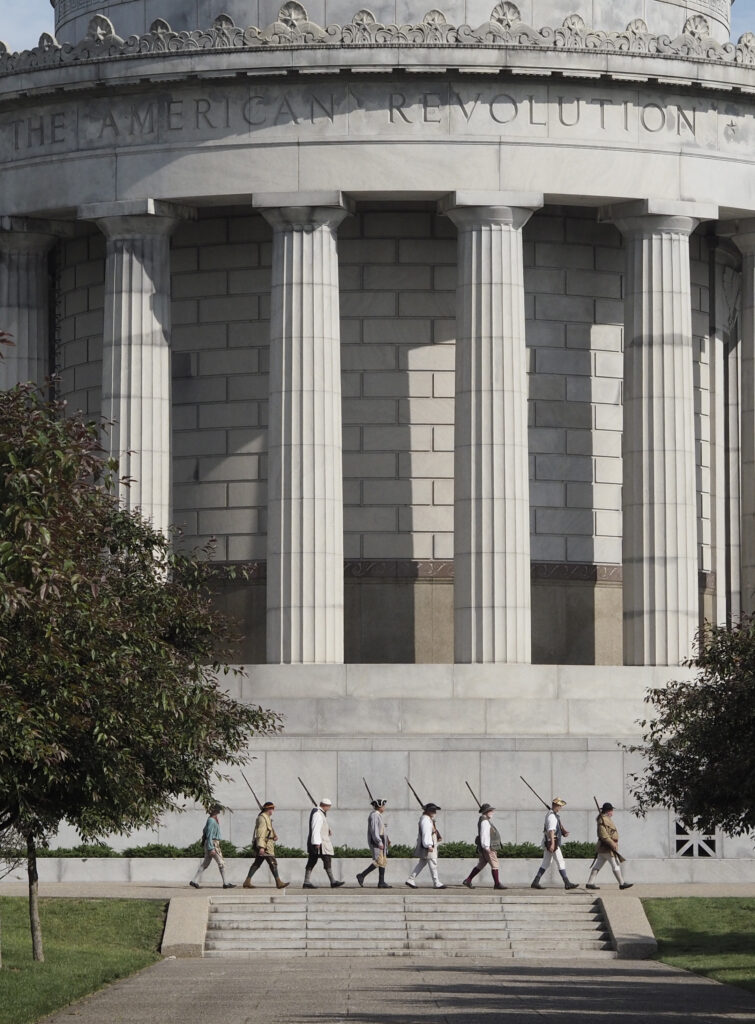 Schedule of Events:
All times are Eastern time zone.
Saturday, May 27, 2023. Open 9am – 6pm ET
MAIN STAGE

10:30 – L'Espirit Creole
11:30 – Traveler's Dream
1:30 – Rusty Musket
2:30 – Father, Son, and Friends
4:30 – Traveler's Dream

OLDE CHERRY TREE

11:30, 1:30, 3:00, 4:30, 5:30 – Faire Winds

BATTLEFIELD

11:30 – River Valley Colonial Fife & Drum
12:00 – 17th Regiment of Light Dragoons horse demonstration
12:30 – Artillery Demonstration followed by battlefield games
1:00 – BATTLE
2:00 – Tippecanoe Ancient Fife & Drum

3:30 – Artillery demonstration followed by battlefield games
4:00 – BATTLE

CLARK MEMORIAL GROUNDS

10:30 – Morning Troop and Veterans Salute
11:00 –

Colonel Webb's Band of Musick
Sons of the American Revolution ceremony
Rivet 6th Grade Ensemble – inside the memorial

11:30 – Special Ranger Program
12:00 –

Massed Field Music of the NWTA
Camp Tours – meet at GRC Grounds

1:30 – Special Ranger Program
3:00 – 18th Century Military Fashion Show
3:30 – Camp Tours – meet at GRC Grounds
3:45 – 18th Century Civilian Fashion Show
4:30 – Colonel Webb's Band of Musick

CHILDREN'S AREA

10:00 – Adam Clark, Storyteller
11:00 – Voyageur Fife & Drum
12:30 – Corn husk doll making
1:00 – Adam Clark, Storyteller
2:00 – Voyageur Fife & Drum
3:30 – Corn husk doll making

LA GALARIE

11:00 – Common Stock
11:30 – Daniel Boone
12:00 – Gordon Howe Defending the Frontier
2:00 – Martha Washington

3:00 – Thomas Paine
3:30 – Silas Moore, Rat Catcher

Cathlinette Prairie Camp

11:00 – Strolling Singers
2:00 – Strolling Singers
Sunday, May 28, 2023. Open 10am – 5pm ET
MAIN STAGE

10:00 – Worship Service, Dennis Latta
11:00 – Traveler's Dream
12:30 – L'Espirit Creole
1:30 – Father, Son, and Friends
2:30 – L'Espirit Creole
4:00 – Eusty Musket Band

OLDE CHERRY TREE

10:00 – Faire Winds
11:00 – The Booneslick Strings
12:30, 2:00, 4:00 – Faire Winds

BATTLEFIELD

11:00 – River Valley Colonial Fife & Drum
11:30 – Artillery Demonstration followed by battlefield games
12:00 – SKIRMISH ON THE BATTLEFIELD
12:30 – Tippecanoe Ancient Fife & Drum
1:00 – 17th Regiment of Light Dragoons horse demonstration

3:00 – Artillery demonstration followed by battlefield games
3:30 – BATTLE

CLARK MEMORIAL GROUNDS

10:00 –

Morning Color Ceremony
Muster of Troops

10:30 – Colonel Webb's Band of Musick

1:30 – 18th Century Civilian Fashion Show

2:00 – Camp Tours – meet at GRC Grounds
2:30 – Colonel Webb's Band of Musick

4:00 –

Camp Tours – meet at GRC Grounds
Photography Contest Awards – GRC Grounds

4:30 –

Tippecanoe Ancient Fife and Drum Corp
River Valley Colonials Fife and Drum Corp.
Voyageur Ancient Fife and Drum Corp. – in front of Memorial

5:00 – Evening Colors / Troop Parade

CHILDREN'S AREA

11:00 – Adam Clark, Storyteller
12:00 – Voyageur Fife & Drum
12:30 – Corn husk doll making
2:00 – Adam Clark, Storyteller

LA GALARIE

10:30 – Stories From Old Vincennes
11:00 – Silas Moore, Rat Catcher
12:30 – Daniel Boone
1:00 – Thomas Paine

2:00 – Martha Washington
2:30 – Q&A: How to get into historical re-enacting at the Spirit of Vincennes Rendezvous

Cathlinette Prairie Camp

11:00 – Strolling Singers
2:00 – Strolling Singers